RSS-Feed
Die News als RSS-Feed?

News Suche
3. Nachwuchsband Contest
Newcomer Stage
Metal Only Merchandising
Metal Only Amazon Shop

Live-Interviews 2017
Live-Interviews im Januar

13.01.17
Godskill
27.01.17
Bloodspot
Live-Interviews im Februar
10.02.17
Spectral
Live-Interviews im März
03.03.17
Thormesis
10.03.17
Vendetta
31.03.17
Incordia
Live-Interviews im April
07.04.17
T.B.A.
14.04.17
Sober Truth
28.04.17
Nihilation
Live-Interviews im Mai
12.05.17
T.B.A.
19.05.17
T.B.A.
26.05.17
Ardent Spirits

Live-Interviews im Juni

02.06.17
T.B.A.
09.06.17
T.B.A.
16.06.17
T.B.A.
23.06.17
T.B.A.

Alle Angaben ohne Gewaehr
Supporter
SUNLESS SKY: posten neuen Song "Starfall"!





Auch wenn es sich geziemt, nur einem Gott zu dienen, dürfen es in 2017 gleich zwei Bands sein, denen der US Metaller zu Füßen liegen darf. Der eine Gott heißt dabei Juan Ricardo und präsentiert mit seinen Gefährten von SUNLESS SKY das Zweitwerk namens "Doppelgänger". Die Stimme von Juan ist ebenfalls auf der neuen Scheibe von WRETCH "The Hunt" zu hören, welche über 'Pure Steel Records' veröffentlicht wird.

Sänger Juan Ricardo (WRETCH, DARK ARENA, ex-ATTAXE, ex-RITUAL) bringt dabei mit seiner Stimme den melodiösen Part zur kraftvollen Musik mit. Unterstützt wird er dabei an der Gitarre von Curran Murphy (SHATTER MESSIAH, ex-NEVERMORE, ex-ANNIHILATOR), dem Bass/ Rhythmus-Gitarristen Kevin Czarnecki und dem Schlagzeuger Coltin Rady.

Ein wundersamer Power Metal-Bolide nach dem anderen rappelt auf "Doppelgänger" aus dem Karton, verfängt sich oftmals in rasanten Geschwindigkeiten oder thrashigen Rhythmen. Traumhafter kann sich das Jahr 2017 für den US Metal-Anhänger nicht mehr entwickeln.

Am 07. April 2017 wird das Album "Doppelgänger" von SUNLESS SKY auf CD veröffentlicht.
Der Vorverkauf beginnt am 24. März 2017.

Track List:

01. Starfall
02. Doppelgänger
03. Kingdom Of Sky
04. Stone Gods
05. Lake Of Lost Souls
06. Netherworld
07. Adrenaline Junkie
08. Inside The Monster
09. Heroin
10. Black Symphony

Total Playing Time: 45:24 min

LINE-UP

Juan Ricardo - Vocals
Curran Murphy - Guitars
Kevin Czarnecki - Bass
Coltin Rady - Drums

Link: Stormbringer.at



ME AND THAT MAN: neues Video veröffentlicht!





Fans des Schwarzmetalls kennen Nergal als Gitarrist und Sänger der polnischen Band BEHEMOTH.
Zusammen mit John Porter gründete Nergal die Band ME AND THAT MAN und hat nun für den Song " Cross My Heart And Hope To Die" ein Video veröffentlicht - stilistisch weit, weit ab von BEHEMOTHschen Klängen.

Link: Stormbringer.at



DRAGONY: veröffentlichen ein Lyric Video!





Womit kann man als Band ein Jubiläum besser begehen, als mit einer neuen Veröffentlichung?
Das dachten sich auch die Mannen von DRAGONY rund um Drachentöter Siegfried Samer, die eigens zu diesem Jubelzwecke für euch ein wertiges EP-Paket geschnürt haben, das am 7. April via Limb Music das Licht der Welt erblicken wird.

Track List:

01. Lords Of The Hunt
02. Call Of The Wild
03. The Longest Night (Re-Recording 2016)
04. Alcador (Re-Recording 2016)
05. Sparta (Elegy Of Heroes)
06. The One And Only
07. Shadowrunners (Karaoke Version)
08. Wings Of The Night (Demo Version 2008)
09. True Survivor (Video Clip)
10. Burning Skies (Video Clip)

Anbei das Statement der Band zur kommenden EP:

"DRAGONY WIRD ZEHN!

Ja, es ist schwer zu glauben, aber im Jahre 2017 feiern wir unser zehnjähriges Bestehen als Band. Unglaublich wie die Zeit verfliegt.

Aber wir feiern nicht nur 10 Jahre DRAGONY, sondern es jährt sich auch der weltweite Release unseres Debütalbums "Legends" über Limb Music 2017 bereits zum fünften Male. Also wenn das mal keine Gründe zu feiern sind, wissen wir auch nicht weiter!

Wir haben uns daher entschlossen, dieses spektakuläre Ereignis mit einem speziellen Geschenk für all unsere Fans und Freunde, und für alle jene die es noch werden wollen, zu feiern. Und jetzt kommt?s: Am 7. April 2017 werden wir eine spezielle 10th Anniversary Extended EP mit dem Titel "Lords Of The Hunt" über unser Label Limb Music veröffentlichen!

Darauf werdet ihr nicht nur zwei brandneue Songs finden, sondern auch Neuaufnahmen von den beliebtesten Songs unseres ersten Albums "Legends" sowie rare Bonus-Tracks, Demo-Versionen und auch die Videoclips, die wir bisher produziert haben. Das Album wird also ein besonderes Gustostückerl für all jene unter euch, die gerne ihre DRAGONY-Sammlung vervollständigen möchten, und auch ein toller Einstiegspunkt für Leute, die uns zum ersten Mal kennenlernen möchten.

An dieser Stelle möchten wir zunächst das Artwork für "Lords Of The Hunt" präsentieren, das von dem fantastischen serbischen Künstler Du?an Markovic angefertigt wurde, der bereits Artworks für A SOUND OF THUNDER und SEVEN KINGDOMS designed hat."

Link: Stormbringer.at



SASON OF ARROWS: posten ihr neues Album komplett als Stream!





Argonauta Records veröpffentlicht am 24. März das neue SASON OF ARROWS Album mit dem Titel "Give It To The Mountain".
Jetzt wurde der neue Longplayer hier komplett als Stream online gestellt.

Die Band sagte:
"We are very excited to announce we're releasing this album with Argonauta Records (Genova, Italy).
They are true pioneers in working with awesome underground Heavy Doom / Sludge Metal bands.

"Our blood, sweat and tears went into writing and recording this record, and it?s always great to see when the effort is rewarded.
Turn it up loud, turn off the lights and enjoy!"

Link: Stormbringer.at



EMPERORS & ELEPHANTS: neues Album & "Porcelain Kiss" Musikvideo!





Die Amerikanische Modern Heavy Rock Band EMPERORS AND ELEPHANTS hat gestern ihr neues Album "Moth" veröffentlicht und hier das neue Musikvideo zum Song "Porcelain Kiss" online gestellt.

Track List:

01. Hidden
02. Not Today
03. Porcelain Kiss
04. Cracks in the Wall
05. Posion
06. Chicago
07. Give Away the Sun
08. Jester
09. Trigger
10. Whisper in the Storm
11. Hold You Back
12. Wicked Game

Link: Stormbringer.at



HOUSE OF LORDS: posten neuen Song "New Day Breakin"!





Am 24. März veröffentlicht Frontiers Music srl das neue HOUSE OF LORDS Album mit dem Titel "Saint Of Lost Souls".
Der neue Song "New Day Breakin" wurden nun online gestellt.

Track List:

01. Harlequin
02. Oceans Divide
03. Hit the Wall
04. Saint of the Lost Souls
05. The Sun Will Never Set Again
06. New Day Breakin'
07. Reign of Fire
08. Concussion
09. Art of Letting Go
10. Grains of Sand
11. The Other Option

Link: Stormbringer.at



ONE DESIRE: streamen neuen Song!





Frontiers Music Srl veröffentlicht am 24. März das neue selbst betitelte ONE DESIRE Album.
Der neue Song "This Is Where The Heartbreak Begins" wurde via You Tube online gestellt.

Track List:

01. Hurt
02. Apologize
03. Love Injection
04. Turn Back Time
05. Falling Apart
06. Straight Through The Heart
07. Whenever I'm Dreaming
08. Do You Believe
09. Buried Alive
10. This Is Where The Heartbreak Begins

Link: Stormbringer.at



STEEL PANTHER: posten "I Got What You Want" Musikvideo!





STEEL PANTHER werden am 24. März ihr neues Album via Open E Music veröffentlichen.
Der neue Longplayer wird "Lower The Bar" heißen und die Band hat jetzt hier die Album Details enthüllt.
Ein Musikvideo zum neue Song "I Got What You Want" wurde via YouTube online gestellt.

Track List:

01. Goin' in the Backdoor
02. Anything Goes
03. Poontang Boomerang
04. That's when you Came In
05. Wrong Side of the Tracks (out in beverly hills)
06. Now the Fun Starts
07. Pussy ain't Free
08. Wasted too much Time
09. I got what you Want
10. Walk of Shame
11. She's Tight

Link: Stormbringer.at



KOBRA AND THE LOTUS: enthüllen "Prevail I" Album Details!





Die Kanadischen Hard Rocker KOBRA AND THE LOTUS veröffentlichen am 12. Mai ihr neues Album "Prevail I" via Napalm Records. Heute hat die Band den neuen Song "You Don't Know" hier als Stream online gestellt.

Sängerin Kobra Paige sagte: "To be alive brings many great things but among those things includes great suffering. It's painful to feel backed into a corner, judged, misunderstood for who we really are. We can never really know a person until we have seen their point of view, crawled into their skin, and walked a mile in their shoes, but that will never happen. This is the anthem for the man, the woman, the human, navigating their life the best way they can.
After all "You don't know what it's like to be me!"

Track List:

01. Gotham
02. TriggerPulse
03. You Don't Know
04. Specimen X (The Mortal Chamber)
05. Light Me Up
06. Manifest Destiny
07. Victim
08. Check The Phyrg
09. Hell On Earth
10. Prevail

Link: Stormbringer.at



VAMPIRE: neuer Song im Stream!





Die Schwedischen Horror Death Metaller VAMPIRE kündigen ihr neues und zweites Album an. Der neue Longplayer wird "With Primeval Force" heißen und am 21. April in den Handel kommen.

Der neue Song "Revenants" wurde hier als Stream online gestellt.

Track List:

01. Knights Of The Burning Crypt (4:49)
02. He Who Speaks (3:26)
03. Metamorfosis (3:53)
04. Skull Prayer (2:20)
05. Midnight Trial (4:46)
06. Revenants (6:14)
07. Ghoul Wind (3:24)
08. Initiation Rites (4:35)
09. Scylla (4:39)

Link: Stormbringer.at



Seiten (1762): 1 2 3 [4] 5 6 7

On Air
Aktuelle Reviews Online!
Metal Only Radio Player
Per Web Player hoeren?
Klick mich!
Eigener Player?
Klicke auf das Logo!
Winamp
Windows Media Player
Winamp 32 kbp/s aac+

Weitere Player gibt es unter dem Menuepunkt "Stream"
Phonostar Web Player
Donation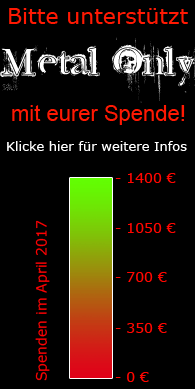 Metal Only Facebook
JUZ ANDERNACH 2017
M.I.S.E. Warm up 2017
M.I.S.E. Open Air 2017
Metal Frenzy 2017
Summernight OA 2017
Radio.de Top 10 Sender