RSS-Feed
Die News als RSS-Feed?

News Suche
3. Nachwuchsband Contest
Newcomer Stage
Metal Only Merchandising
Metal Only Amazon Shop

Live-Interviews 2017
Live-Interviews im Januar

13.01.17
Godskill
27.01.17
Bloodspot
Live-Interviews im Februar
10.02.17
Spectral
Live-Interviews im März
03.03.17
Thormesis
10.03.17
Vendetta
31.03.17
Incordia
Live-Interviews im April
07.04.17
T.B.A.
14.04.17
Sober Truth
28.04.17
Nihilation
Live-Interviews im Mai
12.05.17
T.B.A.
19.05.17
T.B.A.
26.05.17
Ardent Spirits

Live-Interviews im Juni

02.06.17
T.B.A.
09.06.17
T.B.A.
16.06.17
T.B.A.
23.06.17
T.B.A.

Alle Angaben ohne Gewaehr
Supporter
Stream


Jetzt für euch on air: Wolle mit der Sendung "Support the Undergrounded.de ~ Special!", Genre: Mixed Metal.

Anschließend: Wolle mit der Sendung "Support the Undergrounded.de ~ Special!", Genre: Mixed Metal.


Klicke auf das Icon deines favorisierten Players:




Wie ihr Metal Only mit einem Smartphone, Smartpad oder Handy empfangen könnt, wird in diesem Thread näher erklärt.

Aufgrund interner Vorgänge können veraltete listen.*-Dateien keine Verbindung zum Stream herstellen. In diesem Fall hilft es, den Browser- und eventuell andere betroffene Programmcaches zu leeren und die jeweilige listen.*-Datei erneut herunterzuladen.


Aktualisieren



IRC - Internet Relay Chat
Der IRC Channel des Radios befindet sich im Quakenet.



Server: Quakenet: Random Server (irc.quakenet.org)

Channel: #metal-only.de



Im Channel gibt es die Möglichkeit über einen Bot zu wünschen und zu grüßen. Es gelten die Richtlinien der Chatiquette. Das Posten von URLs wird mit einem Kickban geahndet. Diverse Java-Clients wurden aus Gründen der Spam-Prävention gesperrt.


Hier könnt ihr euch einen der bekanntesten und verbreitetsten IRC Clients herunterladen:


On Air
Aktuelle Reviews Online!
Metal Only Radio Player
Per Web Player hoeren?
Klick mich!
Eigener Player?
Klicke auf das Logo!
Winamp
Windows Media Player
Winamp 32 kbp/s aac+

Weitere Player gibt es unter dem Menuepunkt "Stream"
Phonostar Web Player
Donation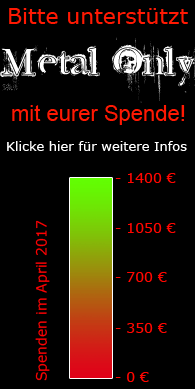 Metal Only Facebook
JUZ ANDERNACH 2017
M.I.S.E. Warm up 2017
M.I.S.E. Open Air 2017
Metal Frenzy 2017
Summernight OA 2017
Radio.de Top 10 Sender