RSS-Feed
Die News als RSS-Feed?

News Suche
3. Nachwuchsband Contest
Newcomer Stage
Metal Only Merchandising
Metal Only Amazon Shop

Live-Interviews 2017
Live-Interviews im Januar

13.01.17
Godskill
27.01.17
Bloodspot
Live-Interviews im Februar
10.02.17
Spectral
Live-Interviews im März
03.03.17
Thormesis
10.03.17
Vendetta
31.03.17
Incordia
Live-Interviews im April
07.04.17
T.B.A.
14.04.17
Sober Truth
28.04.17
Nihilation
Live-Interviews im Mai
12.05.17
T.B.A.
19.05.17
T.B.A.
26.05.17
Ardent Spirits

Live-Interviews im Juni

02.06.17
T.B.A.
09.06.17
T.B.A.
16.06.17
T.B.A.
23.06.17
T.B.A.

Alle Angaben ohne Gewaehr
Supporter
MAMMOTH MAMMOTH - veröffentlichen "Spellbound" Lyric Video!






Die Aussie Rocker MAMMOTH MAMMOTH werden am 24. April ihr neues Album "Mount The Mountain" als CD Digipack, Digital Download und LP Gatefold via Napalm Records veröffentlichen und haben jetzt hier die "Mount The Mountain" Details enthüllt.

"We consider the writing of our albums not unlike working on a top fuelling drag car. We tinker around a bit, we strip the engine down to rebuild it by adding a couple new parts whilst taking some out, always trying to make it run faster and sounding louder, this time though we've added a bigger exhaust system and a shitload of nitrous? and a cup holder," sagte Frontman Mikey Tucker.

Hier wurde das Lyric Video zum neuen Song "Spellbound" online gestellt...

Tracklist:

01. Mount The Mountain
02. Spellbound
03. Hole In The Head
04. Kickin' My Dog
05. Procrastination
06. Sleep Walker
07. Epitome
08. Hard Way Down
09. Wild And Dead
10. Cold Liquor
11. I Cant Get You Out Of My Head (Bonus Track)

Link: stormbringer.at



THE SORROW - Auflösung. Ende. Aus. Finito!


Einer der bekanntesten Metalcore-Exports der Alpenrepublik gibt seinen Abschied bekannt - THE SORROW verkündeten auf ihrer Facebook-Seite die Band nach 12 Jahren intensiver Erfahrungen nicht mehr weiterzuführen. Lest nachfolgend das Original-Statement der Band:

"Hallo Freunde!

Heute wenden wir uns mit einer Sache an euch, die uns schon länger beschäftigt. Seit etwa 12 Jahren treiben wir uns nun als The Sorrow herum, 12 Jahre in denen viel passiert ist, in denen sich viel verändert hat. Jeder von uns ist an einem Punkt angelangt, an dem es sich nicht mehr als so leicht erweist, seine ganzen Energien in die Band zu stecken. Deshalb das Ganze kurz und bündig:

Wir haben uns entschlossen, die Band nicht mehr weiterzuführen.

Wir hatten die Zeit unseres Lebens, unzählige grossartige Menschen kennengelernt, Orte bespielt, von denen wir im Traum niemals daran gedacht hätten, sie zu bereisen. Wir haben Freundschaften und Verbindungen fürs Leben geknüpft und auch so manchen Tiefpunkt durchlebt. Es ist nun Zeit für neue Abenteuer...

Danke an alle, die an uns geglaubt haben, uns in irgendeiner Art und Weise unterstützt haben, unsere Platten gekauft haben, zu den Shows gekommen sind, unsere Shirts tragen, sich sogar The Sorrow Tattoos stechen lassen, unsere Songs auflegen usw... Ihr habt uns zu dem gemacht, was wir waren!

Dankeschön von ganzem Herzen, in Liebe, TS, Andi, Mätze, Dominik und Tobi"

Link: stormbringer.at



MERRIMACK - enthüllen Albumdetails und posten ersten Song!






Die Französischen Black Metaller MERRIMACK veröffentlichen am 9. Juni ihr neues Album "Omegaphilia" via Season Of Mist und haben jetzt hier das Cover Artwork enthüllt. Der neue Song "Apophatic Weaponry" wurde hier als Stream online gestellt.

Die Band sagte: "For this song, as on the whole album, we wanted to come back to something more rooted in the 90's. With a less complex structure, and a sound not as modern and claustrophobic as on our latest albums, "Apophatic Weaponry" still has our characteristic moody atmosphere with some crawling mid-tempos riffs. This is especially noticeable on the second half of the track. Our lyrics are dealing with the special connection between beings and their faith, even though it is constructed on a void trying to fill in another vacant space of nothingness. The divine cannot be observed, demonstrated, except by its consequences.
In the end, this is the definition of faith as opposed to reason. This concept of negative theology is a mystical approach towards the divine that attempts to describe it through the impossibility of describing it. Eckhart. Jacob Böhme and most of the German mystics tried to increase their faith with such notions."


Link: stormbringer.at



PENDRAGON - kündigen neue DVD "Masquerade 20" an!






Die Britische Progressive Rock Band PENDRAGON veröffentlichen am 7. April zu ihrem 20. Jährigen "Masquerade" Album Jubiläum die neue DVD mit dem Titel "Masquerade 20" via Metal Mind Productions.

Gitarrist und Sänger Nick Barrett sagte: "This DVD is probably the most cohesive performance from the band so far captured on film. Just as we have been together for so many years as musicians it shows us as friends as well, even with new boy, Vinnie our drummer and Verity and Tina on backing vocals who appear for the first time with us on DVD. The overall feel of the music and performance is fantastic and the sound is amazing."

Tracklist:

01. The Masquerade Overture
02. As Good As Gold
03. Paintbox
04. The Pursuit Of Excellence
05. Guardian Of My Soul
06. The Shadow
07. Masters Of Illusion
08. King Of The Castle
09. Schizo
10. Beautiful Soul
11. Faces Of Light
12. Nostradamus
13. Explorers Of The Infinite
14. Come Home Jack
15. This Green And Pleasant Land
16. Breaking The Spell
17. Indigo

Extras:

Interview with Peter Gee and Jan-Vincent Velazco
In Bardo in Sri Lanka
Photo Gallery
Discography
Desktop Images

Link: stormbringer.at



NIGHTRAGE - streamen neuen Song "Bemoan"!






Die Griechisch / Schwedischen Metaller NIGHTRAGE haben den Song "Bemoan" vom neuen Album hier als Stream online gestellt. Das neue Album "The Venomous" kommt am 31. März 2017 via Despotz Records veröffentlicht.

Die Band sagte: "The Nightrage sound is evolving and we are ready to take it to new exciting and creative heights. We cannot wait to unleash this out into the world!"

Tracklist:

01. The Venomous
02. Metamorphosis/Day Of Wrath
03. In Abhorrence
04. Affliction
05. Catharsis
06. Bemoan
07. The Blood
08. From Ashes Into Stone
09. Trail Of Ghosts
10. Disturbia
11. Desolation And Dismay
12. Denial Of The Soul (Instrumental)

Link: stormbringer.at



ONE DESIRE - veröffentlichen ein neues Musikvideo!






Frontiers Music Srl veröffentlicht am 24. März das neue selbst betitelte ONE DESIRE Album. Ein Musikvideo zum neuen Song "Apologize" wurde hier via You Tube online gestellt.

Tracklist:

01. Hurt
02. Apologize
03. Love Injection
04. Turn Back Time
05. Falling Apart
06. Straight Through The Heart
07. Whenever I'm Dreaming
08. Do You Believe
09. Buried Alive
10. This Is Where The Heartbreak Begins

Link: stormbringer.at



ECLIPSE - posten neuen Song!






Die Schweden ECLIPSE veröffentlichen am 24. März ihr neues Album "Monumentum" via Frontiers Music srl. Der neue Song "Jaded" wurde hier auf YouTube als Stream online gestellt.

Sänger, Songwriter und Produzent Erik Martensson sagte: "With every album, one's way of writing music changes a bit. What you thought was exciting and interesting while writing one album can radically change when you start writing the next.
I think we have brought in quite a few new tricks in the writing and recording process while still staying true to our sound. In the end, it all boils down to if it's good or bad songs and I think this is the best album we've done. In my opinion there is not one single weak song on the album and I'm really proud of it!"

Tracklist:

01. Vertigo
02. Never Look Back
03. Killing Me
04. The Downfall of Eden
05. Hurt
06. Jaded
07. Born To Lead
08. For Better or for Worse
09. No Way Back
10. Night Comes Crawling
11. Black Rain

Link: stormbringer.at



LOCK UP - posten "Demonization" komplett als Stream!






Die Internationalen Grindcore Supergroup LOCK UP feat. Kevin Sharp (BRUTAL TRUTH, PRIMATE, VENOMOUS CONCEPT), Anton Reisenegger (PENTAGRAM, CRIMINAL), Shane Embury (NAPALM DEATH, BRUJERIA, VENOMOUS CONCEPT) und Nick Barker (CRADLE OF FILTH, DIMMU BORGIR) veröffentlichten am 10. März ihr neues Album "Demonization" via Listenable Records.

Aufgenommen und programiert wurde das Album mit Russ Russell (THE EXPLOITED, NAPALM DEATH, EVILE, THE BERZERKER, DIMMU BORGIR) in den Parlour Recording Studios in Kettering in England. "Demonization" ist das erste LOCK UP Album mit dem neuen Sänger Kevin Sharp, der Tomas Lindberg (AT THE GATES) 2014 ersetzte.

Das neue Album wurde hier komplett als Stream online gestellt.

Link: stormbringer.at



MEMORIAM - stellen zweiten Track-by-Track Trailer online!






Die Old School-Death Metaller MEMORIAM stehen kurz davor, ihr Debütalbum "For The Fallen" am 24. März 2017 über Nuclear Blast Records zu veröffentlichen. Heute enthüllt die Band den zweiten Track-by-Track Trailer, in dem sie über diese Songs spricht:

03. Reduced To Zero
04. Corrupted System

Link: stormbringer.at



WHITE WILLOW - Neues Musikvideo im Netz!






Die Prog-Rocker WHITE WILLOW feiern ihr 25. Bandjubiläum mit einem neuen Studioalbum mit dem Titel "Future Hopes". Das Musikvideo zum Titeltrack ist bereits jetzt online.


Link: metal1.info



Seiten (1762): 3 4 5 [6] 7 8 9

On Air
Aktuelle Reviews Online!
Metal Only Radio Player
Per Web Player hoeren?
Klick mich!
Eigener Player?
Klicke auf das Logo!
Winamp
Windows Media Player
Winamp 32 kbp/s aac+

Weitere Player gibt es unter dem Menuepunkt "Stream"
Phonostar Web Player
Donation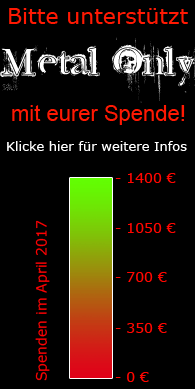 Metal Only Facebook
JUZ ANDERNACH 2017
M.I.S.E. Warm up 2017
M.I.S.E. Open Air 2017
Metal Frenzy 2017
Summernight OA 2017
Radio.de Top 10 Sender