RSS-Feed
Die News als RSS-Feed?

News Suche
3. Nachwuchsband Contest
Newcomer Stage
Metal Only Merchandising
Metal Only Amazon Shop

Live-Interviews 2017
Live-Interviews im Januar

13.01.17
Godskill
27.01.17
Bloodspot
Live-Interviews im Februar
10.02.17
Spectral
Live-Interviews im März
03.03.17
Thormesis
10.03.17
Vendetta
31.03.17
Incordia
Live-Interviews im April
14.04.17
Sober Truth
21.04.17
SpiteFuel
Live-Interviews im Mai
12.05.17
Front Riders
19.05.17
T.B.A.
26.05.17
Ardent Spirits

Live-Interviews im Juni

02.06.17
Soul Demise
09.06.17
T.B.A.
16.06.17
T.B.A.
23.06.17
T.B.A.

Alle Angaben ohne Gewaehr
Supporter
Wir wünschen Euch schöne Feiertage!
THE TIDAL SLEEP: Video zum Song vom kommenden Album "Be Water"!





Die Post-Hardcore-Band THE TIDAL SLEEP veröffentlicht am 26.05. ihr mittlerweile drittes Album "Be Water" über das Label This Charming Man.
Ihr könnt jetzt schon das Video zum Song "Undertows" genießen.

Link: Metal.de



NEMECIC: veröffentlichen Lyric Video zu "Smoke Electric"!





Die finnische Metalband NEMECIC präsentiert ein Lyric Video zur Single "Smoke Electric".

NEMECIC wurde bereits 2005 gegründet, wobei es über die Jahre zu einigen Line-up-Wechseln kam.
Nun begab sich die Band ins SoundSpiral Audio Studio, um die Songs für das Debütalbum einzuspielen.
Ein Release ist via Inverse Records für den Herbst 2017 geplant.

Link: Metal.de



METALLICA: veröffentlichen "Confusion"-Live-Video!





METALLICA legen nach und veröffentlichen einen Live-Mitschnitt von "Confusion".
Das Video wurde beim Konzert der Band in Mexico City am 1. März aufgenommen.
Die Studioversion des Songs ist auf dem aktuellen Album "Hardwired?To Self-Destruct" zu finden, welches am 18. November 2016 veröffentlicht wurde.

Link: Metal.de



VINTERSORG: Neues Album "Till Fjälls Del II" kommt im Juni!

Andreas "Vintersorg" Hedlund hat eine Fortsetzung des 1998 veröffentlichten Albums "Till Fjälls" geschrieben.
"Till Fjälls Del II" wird am 30. Juni über Napalm Records erscheinen.
Hedlund über das neue Album: "Kein wissenschaftliches lyrisches Konzept, keine progressive Trickserei, aber eine von Herzen kommende Rückkehr zu schneebedeckten Bergen, purer Natur inspirierter Mystik, nordische Folklore und echter Black Metal mit bezaubernder epischer Ader."

Die "Till Fjälls Del II"-Tracklist:

CD 1
01. Jökelväktaren
02. En Väldig Isvidds Karga Dräkt
03. Lavin
04. Fjällets Mäktiga Mur
05. Obygdens Pionjär
06. Vinterstorm
07. Tusenåriga Stråk
08. Allt Mellan Himmel Och Jord
09. Vårflod

CD 2
01. Tillbaka Till Källorna
02. Köldens Borg
03. Portalen
04. Svart Måne

Link: Metal.de



ORDEN OGAN - kündigen neues Album und Release-Shows an!


Auch ORDEN OGAN gönnen sich keine Pause, sondern kündigen für den 7. Juli ihr neues Album "Gunmen" an, das, wie schon seine drei Vorgänger, erneut über AFM Records erscheinen und das sechste Studiowerk in der 21-jährigen Geschichte der Westfalen sein wird. Wenn man dem heute veröffentlichten Cover glauben schenken darf, scheint es thematisch erneut in eine neue Richtung zu gehen, die vermutlich in den wilden (untoten?) Westen führen wird. Weitere Infos sowie Audiomatieral zu "Gunmen" sollen bald folgen, sicher sind aber schon die Formate (Digi, Boxset, verschiedene Vinyl-Farben) sowie die drei Release-Gigs mit MOB RULES und HUMAN FORTRESS, für die man im Labelshop von AFM bereits Tickets (inkl. einer bislang unveröffentlichten Live-CD) erstehen kann.

- 07.07. in HAMBURG auf der MS STUBNITZ (Schiff)
- 08.07. in BESTWIG im FORT FUN Abenteuerland (Saloon) und
- 09.07. im Backstage München

Link: stormbringer.at



THE INTERBEING - enthüllen Albumdetails und ein Musikvideo!






Dänemarks Hardrock & Metal Band THE INTERBEING veröffentlichen am 23. Juni ihr neues und zweites Album "Among The Amorphous" als CD, LP und Digital Download via Long Branch Records. Das "Among The Amorphous" Cover Artwork und die Track List wurden jetzt von der Band enthüllt. Auf YouTube wurden ein Musikvideo zur ersten Single "Sins Of The Mechanical" online gestellt.

Für das Mastering ist Jacob Hansen (Hansen Studios) (Volbeat, Dizzy Mizz Lizzy, Pretty Maids) verantwortlich. Produziert und gemischt wurde das Album von Jonas Haagensen.

Tracklist:

01. Spiral Into Existence
02. Deceptive Signal
03. Sins Of The Mechanical
04. Borderline Human
05. Purge The Deviant
06. Cellular Synergy
07. Enigmatic Circuits
08. Pinnacle Of The Strain
09. Sum Of Singularity
10. Among the Amorphous

Link: stormbringer.at



DGM - kündigen ihr erstes Live Album (CD/DVD/BLU RAY) an!


Mit "The Passage" veröffentlichen die Italiener DGM am 26. August das 8 Studioalbum Ihrer Karriere umfasst mittlerweile knapp 20 Jahre und begann mit dem Selbst produzierten Mini Album "Random Access Zone" welches sie 1997 veröffentlichten.

Frontiers Music Srl veröffentlicht am 2. Juni das erste Live Album der Italienischen Rock/Metal Band DGM. "Passing Stages" wird der neue Long Player heißen und als CD/DVD und BLU RAY in den Handel kommen.

""Passing Stages" is the best possible illustration of what DGM are capable of on a stage these days," sagte Simone Mularoni. "We put our hearts and souls into the making this one and managed to capture magical nights that we'll remember forever. In our career, "Passing Stages" will be a milestone in our discography and a great conclusion of the first decade of this line-up. Here's to the future."

Teil eins des Albums wurde am 30. October 2016 beim Frontiers Metal Festival, in Trezzo Sull'Adda (Milano) aufgenommen und der zweite Teil wurde beim ProgPower Festival in Atlanta, GA am 11. September 2014 aufgenommen.

Tracklist:

CD1:

01. The Secret, Part 1
02. The Secret, Part 2
03. Animal
04. The Passage
05. Reason
06. Daydreamer
07. Disguise
08. Fallen
09. Ghosts Of Insanity
10. Hereafter

CD2:

11. Void
12. Reason
13. No Looking Back
14. Universe
15. Numb
16. In A Movie
17. Repay
18. Heartache
19. Enhancement
20. Chaos
21. Trust
22. Brand New Blood

DVD / BLU RAY:

01. The Secret, Part 1
02. The Secret, Part 2
03. Animal
04. The Passage
05. Reason
06. Daydreamer
07. Disguise
08. Fallen
09. Ghosts Of Insanity
10. Hereafter
11. Void
12. Reason
13. No Looking Back
14. Universe
15. Numb
16. In A Movie
17. Repay
18. Heartache
19. Enhancement
20. Chaos
21. Trust
22. Brand New Blood

Link: stormbringer.at



OVERSENSE - kündigen ihr Debütalbum "The Storyteller" an!


OVERSENSE kündigen ihr beeindruckendes Melodic Metal Debütalbum "The Storyteller" samt fetten Headbanger-Riffs, bombastischem Orchester und Chören an.

Mit OVERSENSE betritt am 12. Mai eine der größten Melodic Metal Hoffnungen mit ihrem Debütalbum "The Storyteller" die internationale Bühne. Mehr Abwechslung und Variantenreichtum auf einem Album dieses Genres geht nicht. Produziert in Zusammenarbeit mit Olaf Reitmeier (Avantasia, Kamelot, Epica) und Miro Rodenberg (Edguy, Brainstorm, Rhapsody Of Fire) spielen OVERSENSE auf ihrer ersten Veröffentlichung über Dr. Music Records groß auf! Mit "The Storyteller" liefert die unterfränkische Band großes Kino, das begeistert. Nicht nur für Fans von Bands wie Edguy, Orden Ogan oder Brainstorm ein absoluter Pflichtkauf!

Bereits kurz nach ihrer Debüt-EP "Dreamcatcher" begannen OVERSENSE ihre neue Platte "The Storyteller" in Angriff zu nehmen. In Zusammenarbeit mit den bereits erwähnten Tonmeistern des Gate Studios begann in Wolfsburg die Kreation eines absoluten Meisterwerks des melodischen Metals. Mit einer extra Ladung harter Riffs und drückenden Drums, sowie einigen Stilexperimenten gelingt es OVERSENSE den Hörer dauerhaft bei Laune zu halten.

Auch live hat die junge Band schon für Aufmerksamkeit in der Szene gesorgt. Ihr Auftritt beim Out & Loud Festival 2016 mit Bands wie Powerwolf, Kreator oder Sonata Arctica war sicher das bedeutendste Highlight bisher. Doch zurück zu "The Storyteller", auf dem sich sogar Sascha Paeth, Starproduzent und Gitarrist von Avantasia, mit einem Solo im Song "Wild Hunt" verewigt hat.

Abwechslungsreichtum ist sicher die wichtigste Tugend des Albums. Seien es Akustik-Parts, Pianoklänge oder das volle Melodic Metal Brett, die Süddeutschen limitieren sich nicht. Mit "Big Bang" enthält das Album sogar einen waschechten Rock 'n? Roll Song als Bonus. Einen ersten audiovisuellen Anheizer zum neuen Album gibt es mit dem Musikvideo zu "Mr. Mackie's Chase For Love" am 03. Mai. Bis dahin empfehlen wir den Besuch des YouTube-Kanals, wo es einige Clips wie u.a. das Video zu "Sleepless Nights" von der "Dreamcatcher" EP als auch einiges an Live-Footage zu betrachten gibt!

Ein erster Blick auf die Trackliste von "The Storyteller" verrät wie sich die einzelnen zwölf Geschichten zu einem musikalischem Konzept zusammenfügen:

01. Forgotten Tales
02. Wild Hunt
03. Mr. Mackie's Chase For Love
04. Purgatory
05. Sally
06. We're Gonna Bring You Thunder
07. Phobia
08. Last Goodbye
09. The Heart Begins To Shiver
10. When The Undead Rise
11. Through The Panther's Eyes
12. Bonus Track: Big Bang

Link: stormbringer.at



DAWN OF ASHES - enthüllen Album Details und neuen Song!






Das neue Album "Daemonolatry Gnosis" der Extreme Symphonic Black Metaller DAWN OF ASHES kommt am 9. Juni via Metropolis Records in den Handel. Die Album Details und der neue Song "Guardians" wurden hier online gestellt.

Als Gast wurde jetzt Cradle of Filth's Lindsay Schoolcraft bestätigt.

Tracklist:

01. The Initiation
02. Gods of The Antinomian Path
03. Smash Thy Enemies
04. Guardians
05. Core of The Black Sun
06. The Ritual
07. Augoeides
08. Sermon From The Horned God
09. I Am Nephilim
10. Rulership Of The Inner World
11. Magick For The New Aeon (featuring Lindsay Schoolcraft)
12. Freezing Moon

Link: stormbringer.at



Seiten (1780): 3 4 5 [6] 7 8 9

On Air
Aktuelle Reviews Online!
Metal Only Radio Player
Per Web Player hoeren?
Klick mich!
Eigener Player?
Klicke auf das Logo!
Winamp
Windows Media Player
Winamp 32 kbp/s aac+

Weitere Player gibt es unter dem Menuepunkt "Stream"
Phonostar Web Player
Donation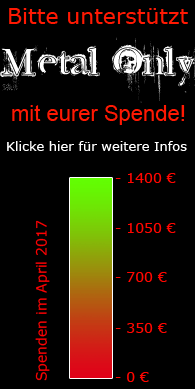 Metal Only Facebook
JUZ ANDERNACH 2017
Inglorious Night VI 2017
M.I.S.E. Open Air 2017
Metal Frenzy 2017
Summernight OA 2017
Radio.de Top 10 Sender