RSS-Feed
Die News als RSS-Feed?

News Suche
3. Nachwuchsband Contest
Newcomer Stage
Metal Only Merchandising
Metal Only Amazon Shop

Live-Interviews 2017
Live-Interviews im Januar

13.01.17
Godskill
27.01.17
Bloodspot
Live-Interviews im Februar
10.02.17
Spectral
Live-Interviews im März
03.03.17
Thormesis
10.03.17
Vendetta
31.03.17
Incordia
Live-Interviews im April
14.04.17
Sober Truth
21.04.17
SpiteFuel
Live-Interviews im Mai
12.05.17
Front Riders
19.05.17
T.B.A.
26.05.17
Ardent Spirits

Live-Interviews im Juni

02.06.17
Soul Demise
09.06.17
T.B.A.
16.06.17
T.B.A.
23.06.17
T.B.A.

Alle Angaben ohne Gewaehr
Supporter
CRY MY NAME: veröffentlichen "Reflections" Full Album Stream!





CRY MY NAME stellen ihr neues Album "Reflections" komplett als Stream online. "Reflections" ist der vierte Release der Metalcore Band aus Kiel, auf dem sie frischer und dynamischer als je zuvor klingen. Die alte Stilsicherheit wird auf dem neuen Album getoppt durch eine mörderfette Produktion und harte Chorus-Hooks. "Reflections" wird am 21. April über Bastardized Recordings veröffentlicht.

Die Band sagte zum neuen Album:
"On the new record we came up with themes that really concerned us; in private as well as in general. So there are songs like 'Changes,' where we are telling to stand up for who we are and we got songs like 'Recover,' which criticizes how we are dealing with the world we live in. It will definitely be something new for everyone who knows us and for everyone who doesn't; it will be the best first impression of who we are. So many blood, sweat and tears are in this album and we are so proud of the result!"

Tracklist:

01. Patience
02. Changes
03. Restless
04. Backbone
05. Recover
06. Lost
07. Castles
08. Reflections
09. Relentless
10. Awakening

Link: Stormbringer.at



JOTNAR: posten "Suicidal Angel" Musikvideo!





JOTNAR haben ein brandneues Video zum Song "Suicidal Angel" veröffentlicht!
Der Song stammt vom kommenden Album "Connected/Condemned", das am 21. April bei Massacre Records erscheinen wird!

Das neue JOTNAR Album "Connected/Condemned" wurde von Sacha Laskow gemischt und von Jens Bogren gemastert.
Der britische Künstler Russ Mills hat das Artwork gestaltet.

Link: Stormbringer.at



TWELVE NOON: kündigen neues Album an!





Pittsburg's Alternative Metal Rising Stars TWELVE NOON veröffentlichen am 9. Juni ihr neues Album "Saints and Sinners" via Eclipse Records.
Die Album Details und ein "Saints and Sinners" Trailer wurden jetzt hier online gestellt.

Das Label schreibt:
"The new album, 'Saints and Sinners' is a polished, epic rock journey for all who listen.
This band is able to translate the raw emotions of life, love, and despair into meaningful, memorable songs that (after only a single listen) will hook you by the ear, and reel you in."

Track List:

01. Change My Ways
02. Saints and Sinners
03. Breaking Down
04. Hope In Tragedy
05. Better Side
06. Carry On
07. No Way Out
08. Back for More
09. Bottom of A Bottle
10. The End

Link: Stormbringer.at



SECRET SPHERE: stellen "The Calling" Musikvideo online!





Die Italienische Power Metal Truppe SECRET SPHERE hat gerade ihr erstes Live Album mit dem Titel "One night in Tokyo" veröffentlicht und jetzt kündig die Band mit "The Nature Of Time" ihr neues Studio Album an. In den Handel sol der neue Longplayer am 2. Juni via Frontiers Music Srl kommen.

"The long writing process of this album has been a constant 're-living' of memories and feelings, that started with only instrumental pieces that were put together only in order to vent my then current state of mind: a way to express emotions purely, without any kind of 'holding back,' so to speak. I then talked to Michele and we decided these were the perfect basis for a new Secret Sphere record," sagte Gitarrist Aldo Lonobile.

"What can I say about this album? We spent a few months writing songs in a way that opened the doors to our new age of heavy rock...definitely a new beginning for each member of the band, a new approach that got inspired by the concept of the album itself. It's not easy to open and talk about love and kindness. We chose the most direct way, no masks, only passion, energy and light guided each note leaving any kind of fear behind. Eventually, with time, we became US, not individuals...THIS IS US. Some of these songs earned a very special place in my heart," fügte Sänger Michele Luppi hinzu.

Das Musikvideo zum neuen Song "The Calling" wurde nun online gestellt.

"The Nature Of Time Track Listing:

Chapter I - Genesis
- Intermission
- The Calling

Chapter II - The Seven Virtues
- Love
- Courage
- Kindness
- Honesty
- Faith
- Reliance
- Commitment

Chapter III - The New Dawn
- The Awakening

Chapter IV - The Way
- The New Beginning

Link: Stormbringer.at



DOCTOR CYCLOPS: veröffentlichen Full Album Stream!





Das neue DOCTOR CYCLOPS Album "Local Dogs" wurde gestern via Heavy Psych Sounds veröffentlicht und hier komplett als Stream online gestellt.

Link: Stormbringer.at



DYING EDEN: posten "Omen" Full Album Stream!





Die heimischen Groove Metaller DYING EDEN haben ihr neues Album "Omen" am 5. April veröffentlicht.
Der neue Longplayer wurde jetzt komplett als Stream via YouTube online gestellt.

Tracklist:

01. Pending
02. Redemption
03. In Days of Fear
04. Prophets of War
05. The Phenom
06. Omen
07. Interlude
08. Rise
09. Affliction
10. Wrath Within
11. Empty Soul
12. Sacrifice
13. Farewell

Link: Stormbringer.at



BADASS: veröffentlichen Debütalbum und Musikvideo!





Sänger Titta Tani (Takayoshi Ohmura, ex-DGM), Bassist Alberto Rigoni (Solo Artist, Vivaldi Metal Project, TwinSpirits), Gitarrist Alessio "Lex" Tricarico (HorsePowerOverload, Four Roxx Down) und Drummer Denis "Denzy" haben die Italenische Metal Band BADASS gegründet und haben heute ihr Debütalbum "More Pain, More Gain" via Lion Music Digital veröffentlicht.
Das Musikvideo zum Titel Song "More Pain, More Gain" wurde nun online gestellt.

Tracklist:

01. Intro
02. More Pain, More Gain
03. Nightmares of My Youth
04. Royal Chains
05. Strong and United
06. What We Need
07. One More Night
08. Join Me
09. Redemption
10. Don't Bother Me
11. Outro

Link: Stormbringer.at



ASCENDANT: enthüllen Album Details und neuen Song!





ASCENDANT kommen aus Dubai und spielen Heavy Metal. Am 19. Mai veröffentlicht die Band ihr neues Album "A Thousand Echoes".
Die Album Details und der neue Song "Doomsday Machine" wurden hier online gestellt.

Die Band schreibt:
"When we first formed as a band we were very clear that we're going to sing about things that mattered, things that strike a chord with us, emotionally.
On this album, we have some amazing stories. Some of them are tragically true. We have 3 members in the band who have been personally affected to varying degrees by a civil war raging in their homelands - and this is our method of expression."

Track List:

01. Twilight of Eden
02. Doomsday Machine
03. Walls Between Us
04. Fog of War
05. Morning Light
06. Land of a Thousand Echoes
07. False Illusion
08. Tears of His Majesty
09. At the end of the World

ASCENDANT sind:

Youmni Abou Al Zahab - Vocals
Alaa Abou Saada - Guitars
Ashish Shetty - Guitar
Puneet (Vipere Nebuchadnezzar) - Bass
Aram Kalousdian - Drums

Link: Stormbringer.at



SAMSARA BLUES EXPERIMENT: posten Full Album Stream!





Die Deutschen Heavy Psych Rocker SAMSARA BLUES EXPERIMENT veröffentlichen am 12. Mai ihr neues Album "One With The Universe" via Electric Magic Records.
Der neue Longplayer wurde jetzt komplett als Stream online gestellt.

Link: Stormbringer.at



MISS MAY I: posten "Lost in the Grey" Musikvideo!





Die US Amerikanische Metalcore Band MISS MAY I veröffentlichen am 2. Juni ihr neues Album "Shadows Inside" via SharpTone Records.
Ein Musikvideo zum neuen Song "Lost in the Grey" wurden jetzt online gestellt.

Track List:

01. Shadows Inside
02. Under Fire
03. Never Let Me Stay
04. My Destruction
05. Casualties
06. Crawl
07. Swallow Your Teeth
08. Death Knows My Name
09. Lost in the Grey
10. My Sorrow

Link: Stormbringer.at



Seiten (1780): 1 2 [3] 4 5 6

On Air
Aktuelle Reviews Online!
Metal Only Radio Player
Per Web Player hoeren?
Klick mich!
Eigener Player?
Klicke auf das Logo!
Winamp
Windows Media Player
Winamp 32 kbp/s aac+

Weitere Player gibt es unter dem Menuepunkt "Stream"
Phonostar Web Player
Donation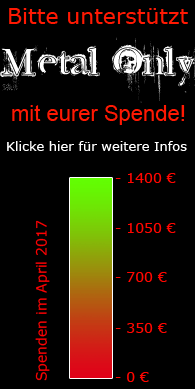 Metal Only Facebook
JUZ ANDERNACH 2017
Inglorious Night VI 2017
M.I.S.E. Open Air 2017
Metal Frenzy 2017
Summernight OA 2017
Radio.de Top 10 Sender