RSS-Feed
Die News als RSS-Feed?

News Suche
3. Nachwuchsband Contest
Newcomer Stage
Metal Only Merchandising
Metal Only Amazon Shop

Live-Interviews 2017
Live-Interviews im Januar

13.01.17
Godskill
27.01.17
Bloodspot
Live-Interviews im Februar
10.02.17
Spectral
Live-Interviews im März
03.03.17
Thormesis
10.03.17
Vendetta
31.03.17
Incordia
Live-Interviews im April
14.04.17
Sober Truth
21.04.17
SpiteFuel
Live-Interviews im Mai
12.05.17
Front Riders
19.05.17
T.B.A.
26.05.17
Ardent Spirits

Live-Interviews im Juni

02.06.17
Soul Demise
09.06.17
T.B.A.
16.06.17
T.B.A.
23.06.17
T.B.A.

Alle Angaben ohne Gewaehr
Supporter
JORN - veröffentlichen "Life On Death Road" Trailer!






Das neue JORN Album "Life On Death Road" kommt am 2. Juni in den Handel. Nach den Album Details wurden heute der erste "Life On Death Road" Trailer online gestellt.

Jorn sagte: "It's easily one of the best albums I've ever recorded. This was all about putting the right people together for the right result, and about taking the necessary time to work more thoroughly and in depth with the material we chose for the album. The older I get, the more I feel it is necessary to listen to my heart and look for that genuine and honest feeling that made me take interest in music in the first place. Back in the 70's and early 80's when I grew up, people and music were more free and so the presence of feeling and soul came more naturally and was expected from an artist or a band.

This is the energy and craftmanship we've been looking for, but still keeping a pulse on the modern times we live in. Life On Death Road is an original album that is pretty much summing up the last 40-50 years of rock and metal and has become a hybrid modern heavy rock album without losing those tasty elements of a good aged wine. Regardless, we're all products of our time, and the feeling, soul and symbioses we've achieved for this album is a rarity in today's music world, so in that sense this album is a true old school sailors' "tall ship adventure". From start to finish it took us nearly three years to finalize and I'm really proud to say that this album is the proof that classic albums can still be made."

"The album also marks the debut of a new lineup of very experienced and gifted musicians around the Norwegian singer. On bass is Mat Sinner (Primal Fear, Sinner, Kiske/Somerville) who needs virtually no introduction to European heavy metal fanatics. On keyboards and production is Alessandro Del Vecchio (Hardline, Revolution Saints), who already joined Jorn for the recording of his last covers album, Heavy Rock Radio, and was the glue that helped Jorn to create the feel and the direction for the new album. Francesco Iovino (Primal Fear) is on drums and Alex Beyrodt (Primal Fear, Voodoo Circle) handles guitar. Truly a recipe for a roaring success!"

Tracklist:

01. Life On Death Road
02. Hammered To The Cross (The Business)
03. Love Is The Remedy
04. Dreamwalker
05. Fire To The Sun
06. Insoluble Maze (Dreams In The Blindness)
07. I Walked Away
08. The Slippery Slope (Hangman's Rope)
09. Devil You Can Drive
10. The Optimist
11. Man Of The 80's
12. Blackbirds

Link: stormbringer.at



ASTRAL DOORS - posten neuen Song!






Die Schwedischen Metaller ASTRAL DOORS veröffentlichen am 28. April ihr neues Album "Black Eyed Children" via Metalville Records und haben jetzt nach dem Cover Artwork auch ein Musikvideo zum neuen Song "We cry Out" online gestellt.

Zwei Jahre arbeiteten die schwedischen Schwermetaller an ihrem achten Studioalbum und nun ist es endlich soweit, mit "Black eyed children" erscheint ein Album, dass Jocke, Joachim, Nils, Ulf und Johan in absoluter Höchstform und so stark wie nie zuvor zeigt!

Meht Infos werden in kürze bekannt geben.

Tracklist:

01. We Cry Out
02. Walls
03. God Is The Devil
04. Die On Stage
05. Tomorrows Dead
06. Good vs. Bad
07. Suburbian Song
08. Lost Boy
09. Slaves To Ourselves
10. Black Eyed Children
11. Jesus Christ Moviestar

Link: stormbringer.at



TANKARD - veröffentlichen zweiten Album Trailer!






Es ist Jubiläumsjahr: 35 Jahre TANKARD! Und natürlich darf zu solch einem Jubelfest auch der passende Soundtrack nicht fehlen. Das bereits 17. Studioalbum mit dem Titel "One Foot In The Grave" wird am 02. Juni 2017 via Nuclear Blast veröffentlicht.

Heute enthüllt die Band ihren zweiten Video-Trailer, in dem sie über den Titel des Albums und über das Cover-Artwork spricht.

"One Foot In The Grave" wurde im Januar 2017 zusammen mit Produzent Martin Buchwalter (DESTRUCTION, SUIDAKRA) im Gernhart Studio Troisdorf aufgenommen. Die Gestaltung des neuen Covers lag wieder in den Händen von Patrick Strogulski, der ein Schüler des ehemaligen TANKARD-Coverzeichners Sebastian Krüger ist. Patrick war bereits für die letzten beiden Cover ("A Girl Called Cerveza" und "R.I.B.") verantwortlich.

Zu Sehen gibt es den Streifen hier.

Link: stormbringer.at



PRISTINE - enthüllen Albumdetails!


PRISTINE, die norwegischen Rocker um Frontfrau Heide Solheim, haben ihr viertes Album "Ninja" angekündigt, das am 23. Juni via Nuclear Blast auf den Markt kommt. Solheim kommentiert: "We are extremely excited to share the new music with old and new fans! The music on »Ninja« was written as a result of a very fun and adventurous 2016 where we got to meet a lot of great people. Inspiration is our creative fuel. Hope you will enjoy the record and see you on the road!"


Link: metal1.info



PYRAMAZE - zeigen Clip zu "A World Divided"!






Die dänischen Melodic-/Power-Metaller PYRAMAZE haben ein Video zu ihrem Song "A World Divided" veröffentlicht. Der Track ist auf dem fünften Studioalbum "Contingent" enthalten, das am 28. April via Inner Wound Recordings erscheint und von Gitarrist und Bassist Javob Hansen produziert wurde.

Tracklist:

01. Land Of Information
02. Kingdom Of Solace
03. Star Men
04. A World Divided
05. Nemesis
06. Contingent - Part I: The Campaign
07. 20 Second Century
08. Obsession
09. Heir Apparent
10. Contingent - Part II: The Hammer Of Remnant
11. Under Restraint
12. The Tides That Won?t Change
13. Symphony Of Tears

Link: metal1.info



THE RUINS OF BEVERAST - präsentieren Song von "Exuvia"!






Die nunmehr fünfte Studioplatte "Exuvia" der Extreme-/Doom-Metal-Formation THE RUINS OF BEVERAST kommt am 5. Mai via Ván Records in die Läden. Den Albumtrack "Towards Malakia" könnt ihr euch schon jetzt anhören.


Link: metal1.info



SLAEGT - geben Vorgeschmack auf Debüt!






Die dänischen Blackened-Heavy-Metaller SLÆGT bieten mit "I Smell Blood" einen ersten Vorgeschmack auf ihr Debütalbum "Domus Mysterium". Die Platte erscheint am 05. Mai via Ván Records.


Link: metal1.info



NERVECELL: enthüllen Album Titel, Cover Artwork und neuen Song!





Die Extreme Metal Pioniere NERVECELL werden im Sommer ihr neues Album "Past, Present...Torture" via Lifeforce Records veröffentlichen und haben jetzt hier das Cover Artwork enthüllt und den ersten neuen Song "Proxy War" online gestellt.

Die Band sagte:
"Past, Present?Torture is an album we've been working on for roughly the last four years. The album consists of 13 new tracks that promise to be the most extreme and versatile Nervecell record to date, have no doubt about it! The title speaks for itself, focusing on the state of the world and where we are all headed as a civilization. We can't wait for you all to have a taste of what's in store, don't say we didn't warn you?"

"We'd like to clear the air about this as we've been getting a lot of questions about whether we're still with Unique Leader Records for North America. The fact is we've left Unique Leader Records for reasons not worth publically mentioning, as it only creates more speculation. It was a decision we made ourselves for the band's best interest. What's important to us now is that we focus on our new album "Past, Present?Torture". It's completed, sounds absolutely killer and is ready to be released soon. So if there is any U.S. labels / A&R executives reading this or interested to work with us, the door is open and you know where to find us."

"Having said that, we are super excited to be back with our European label home Lifeforce Records who will release "Past, Present?Torture" for all our European fans this summer."

Link: Stormbringer.at



SVARTSYN: kündigen neues Album an!

Die Schwedischen Black Metaller SVARTSYN veröffentlichen am 9. Juni ihr neues Album mit dem Titel "In Death" via Agonia Records. Die Album Details wurden jetzt bekannt gegeben.

Track List:

01. Seven Headed Snake
02. Dark Prophet
03. With Death
04. The White Mask
05. Wilderness Of The Soul
06. Black Thrones Of Death
07. Exile In Death

Link: Stormbringer.at



XAON: posten animiertes Musikvideo!





Die Schweizer Symphonic Death Metaller XAON werden ihr neues Album "The Drift" am 15. Mai via Sliptrick Records veröffentlichen.
Die Band hat jetzt ein animiertes Musikvideo zum neuen Song "On The Nature Of Flights" online gestellt.

XAON sind:

Rob - Vocals
Vinc - Guitar
Flo - Bass

Link: Stormbringer.at



Seiten (1780): 1 [2] 3 4 5

On Air
Aktuelle Reviews Online!
Metal Only Radio Player
Per Web Player hoeren?
Klick mich!
Eigener Player?
Klicke auf das Logo!
Winamp
Windows Media Player
Winamp 32 kbp/s aac+

Weitere Player gibt es unter dem Menuepunkt "Stream"
Phonostar Web Player
Donation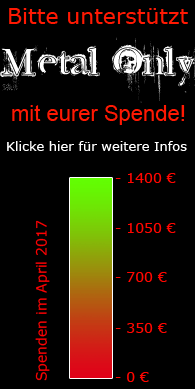 Metal Only Facebook
JUZ ANDERNACH 2017
Inglorious Night VI 2017
M.I.S.E. Open Air 2017
Metal Frenzy 2017
Summernight OA 2017
Radio.de Top 10 Sender